We are very fortunate that our neighbourhood is quite well planted.  This street is close to home and around the corner we see
this
.  However we were inspired to join Juliane's
Fröken Skicklig Garden Guerilla project
 simply because I love to garden and think that the world would be lots better with more plants, trees and bushes of a local variety.  I don't usually plant outside my garden though, so this was a unique way to contribute to our local community.   Thus we committed to participating.  As Ess said "we always do
something
Mummy...for
Juliane's Giveaways
".  Juliane is a very lovely inspirational lady, a special new friend, - you must pop in to view her precious
handmade dolls
.  Ess was also very keen to participate in order to possibly receive some delightful confectionary which Juliane has handsewn.
We found a spot where the effects of the drought can be seen as the plants have died back (see absolute top right) and some have totally disappeared.  This place should be suitable for our 
Spotted Emu Bush (eremophila maculata cerise flowered form
) found at our local nursery.  It is native to South Australia (specifically
The Mallee
) so we hope it will thrive here in our neighbourhood.
Inspired by
Steffi
, we also carried along our chalks for a fun afternoon of outdoor drawing.  This is certainly a great way to get to know a few more neighbours.  We had people telling us that they used to see this all the time back in Lancaster - now no longer.  I was told I was creating a graffiti artist (in jest).  The local youths hung out their car door and called out "eat my path" or the like?? :)  We hope many others will look and smile.
So our neighbourhood now has a new little bush (see the planted emu bush in the bottom right corner above).  It is so tiny now.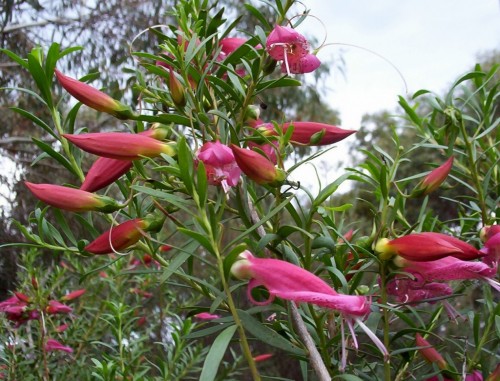 We hope it will grow and flower so our street will look like this in Spring - or perhaps one day down the track.  Then we will always remember our little garden guerilla project für 
Juliane
.
Have you ever planted a tree somewhere in your local community apart from your own garden?  Have you contemplated doing it?  I do recommend it.  It satisfies the soul and is yet another thing which will serve to teach little Ess and Eee as we walk past the site watching the eremophila grow day by day.